Best of Breeds
Blaze News Best of Breed Series
Blaze Magazine's, companion newsletter is called Blaze News, and it's part of your subscription to Blaze Magazine!  In 2010, Blaze News worked with breed organizations to bring kids a fun opportunity to learn about different breeds of horses. Now they're available to everyone to download!
From Appaloosa's to Gypsy Vanners, we've got fun and games featuring some of the most popular horse breeds in the world. Print out past issues of Blaze News to learn about your favorite breed.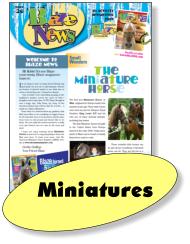 Issue No. 26
The Miniature Horse
For more visit www.shetlandminiature.com

Issue No. 30
Horse of Many Colors!
Visit The Appaloosa Horse Club 

Issue No. 31
Flashy Splashy Pintos!
Visit the Pinto Horse Association.
Issue No. 32
The Gypsy's Horse
Learn more about Gypsy Vanner Horses at www.vanners.org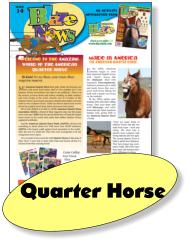 Issue No. 34
Made in America
To learn more about America's Favorite Horse http://www.aqha.com/

 Issue No. 35
The Horse for Every Adventure
Learn more at Arabian Horse Association.

Issue No. 36
Painting the Next Generation
Visit the American Junior Paint Horse Association.

Issue No. 37
The Gold Standard
For more visit the Palomino Horse Breeders Association.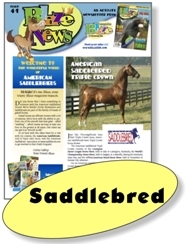 Issue No. 41
American Saddlebred Triple Crown
For more visit the American Saddlebred Horse Association
Issue No. 43
The Morgan Horse Chooses You
For more visit the Morgan Horse Association